Hide your male assets - Lean the Tranny Tuck!
Sure makeup and hair (wigs) go a long way to making you feel more feminine along with a pair of silky knickers but if you want to give the illusion of the female form when you go out you don't really want your manhood spoiling your womanly figure, especially if you want to wear tight clothing!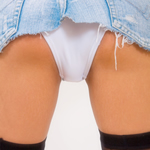 If you are new to all of this then reading "tucking and taping" probably sounds horrendous and it comes down to whether you are just after a sexual experience of wearing ladies underwear or if you want to transform yourself. If it is the latter with a bit of practice you'll be cutting a more feminine shape in no time. The taping part is really only necessary if you are planning on being seen in just your panties or a swimming costume or similar atire, once you learn to tuck properly that will suffice for most occasions and outfits!
To tuck or not to tuck?
This really depends on your clothing and activity when out, many newbies will be happy to just "hold everything tightly in place" by wearing support undies or maybe control top hosiery if skirts are looser so as not to pull over the bulge. But if you want to wear tight skirts/dresses or wear skimpier knickers then you really have no choice but to learn to do the tranny tuck.
One piece of clothing that is designed to assist with tucking things neatly away is the gaff thong. They have a strong, reinforced front panel which allows the penis and balls to be tucked up securely, holding them in place and smoothing you out at the front but they do not eliminate your bluge so you need to ensure that your outer clothing is loose fitting to escape detection. Being a thong it will also slightly separate your bum cheeks to enhance your figure.
Practice makes perfect!
If you really want to appear bulgeless then you are going to have to master the art of tucking, now everyone will find their own best way, but practicing really is the only way to find your way and to feel safe & secure. It probably is best that you can be as hair-free as possible, whether you use tape or not, so that you don't get anything caught! Some stand to do this, others favour lying on their backs, whilst others favour sqatting over the loo in order to scoop, push, tuck & secure.
Bye bye balls!
You have a cavity called the inguinal canal where the testes originally dropped from and you can pop them back into this - not everyone finds this easy to do or comfortable but it is the best hiding place for them and some say they find it easier when cold, so a cold soak can often help. Once they are in place you can wrap the empty scrotum around the penis and then tuck that up behind you and secure in place. An alterntive is to pull the penis back so that it searates and squashes the testicles to the sides against your thighs - not quite as hidden but you won't get a front bulge.
Just a last word - you won't be able to tuck at all if you are aroused, so don't leave your first time tucking until you want to go out or you could find yourself a bit late!
So now you know how to tuck it all away click here for shapewear to create your curves!